Massenza and Strassmayr plot growth together
Massenza became the majority shareholder in Strassmayr at the end of last year, adding a complementary range of plant to Massenza's established range of bitumen handling equipment.
"We are now starting to promote the brand through our network of agents which covers almost 100 countries in the world," said Massenza director Diego Massenza.
Click on the image below to read the press release (PDF format, 1.26 MB).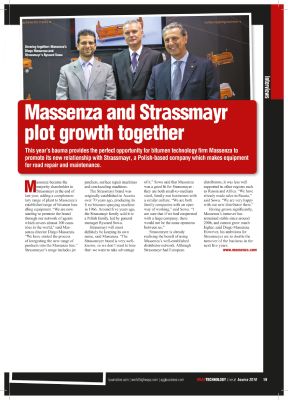 Where we are
Massenza S.r.l.
Head office and factory:
Via Bologna, 12 - 43036 Fidenza (Parma), Italy
Telephone: +39 0524 202811
Fax: +39 0524 530205